Bunion Supporter (W Supporter with toe pad for Middle Stage)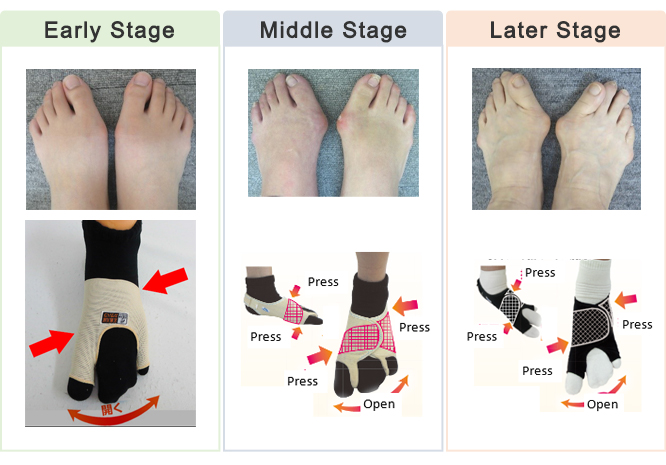 We recommend using our products in combination to more efficiently heal ailments, according to the stage of foot deformation.
It is important to feel comfortable using the product so you can learn to stand and walk with the correct balance without struggling in daily life. Also we emphasize that it is more meaningful to recover the correct function of the foot than to correct the shape of the foot itself.
3 Toe & W Supporter (with toe pad) in Combination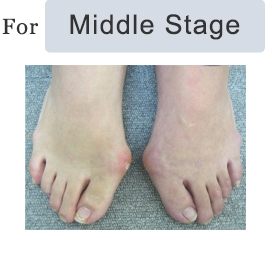 In cases where the big toe bends inward more than 30 degrees, the upper body is impacted and early treatment is needed. It is ideal to use 3-toe socks and the W supporter with toe pad (Right and left separately sold) in combination.

---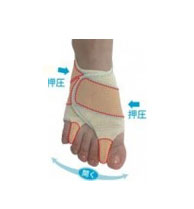 Product Name:AKC-001/004
Description :
W Supporter with toe pad
※Supporter-right and left separately sold
Price:5,027 Yen (Tax included)

Attention!
Please read the purchase procedure and return & exchange policy before purchase. Thank you for your understanding.
【Notice】
【W Supporter (with toe pad) 】

●We recommend initially using the product for 2 to 3 hours and gradually extending the use time accordingly.

●Please do not wear the 3-toe-socks while sleeping.

●Keep toenails smooth and well-filed to avoid damaging the product.

●In the initial stages, the little toe tends to slip out of the proper sock position because the toes are not yet firmly grabbing the ground. Correct walking can be recognized when this no longer happens.

●Please note that an imbalanced sole can initially damage the product due to the way of walking.

●Not for medical use.

●Please contact a specialist in case of rash or other symptoms.

●Adjustable shoes (with shoe laces) are highly recommended when wearing the supporter outside.

■ Right and Left sold separately

■ Size
S 22~23cm
M 23.5~24.5cm
L 25~26.5cm

■ Color
Beige(AKC-001)/ Black(AKC-004)

■ Material
Nylon/Polyurethane

■ Made in Japan