Back Supporter
Back supporter has been developed to support the hip bone and hip joint and is ideal for prevention or for those with lower back pain or pain in the hip joint, bowleg or knock knees.


---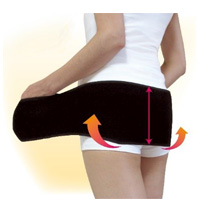 Product Name:AKE-007
Description : Back Supporter

Price:7,480 Yen (Tax included)

Attention!
Please read the purchase procedure and return & exchange policy before purchase. Thank you for your understanding.
【Notice】
【New koko belt】

● We recommend initially using the product for 2 to 3 hours and gradually extending the use time accordingly.

● Please do not wear the supporter while sleeping.

● Please wear it on the underwear.

●Please do not over-tighten the supporter.

●In case of rash or other symptoms, please discontinue use and contact a specialist.

● This product contains Velcro. Please be careful not to damage your clothes.

●Not for medical use.

【Note for cleaning】

Hand wash in tepid water with a neutral detergent and remove excess water with a towel after rinsing. Allow to dry in the shade.

■ Size
Hip measurement
M-L(About 78~100cm)
LL (About 100~120cm)

■ Color
Black

■ width: 17cm

■ Material
Body – Polyester/Nylon/Polyurethane
Velcro – Nylon

■ Made in Japan