Profile
【Iwao Kasahara】

Iwao Kasahara has taken care of over 110.000 patients (only the first medical examination) in 41 years, approaching injuries from a patients' sole balance and damaged body parts.
After investigating the link between knee, back and neck pain, and malfunctions of body, such as imbalance of autonomic nervous system in which the causes are unidentifiable, with Hallux Valgus ( Bunion ), Ungrounded Toe and Flatfoot, he has established a new medical theory, "Strain Structural Medicine" , also known as G-Balance Medicine, based on gravity and balance.
He has been actively giving lectures, publishing books, writing articles for newspapers and magazines to broaden the awareness of G-Balance Medicine.
Original Balance Supporting Products with patents have been developed to supplement the treatment.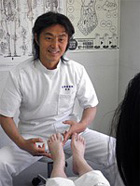 He has founded the therapy school to teach G-Balance Medicine and treatment method to Judo Therapists and others in the health industry.