Balance Tape (5 m × 6 roll)
Balance tape is ideal for Kasahara Taping Treatment because it is resistant to bacteria and odor and is hypoallergenic.
● Because Balance Tape is thin, it breathes well and is still comfortable when worn in layers.
● Adhesion increases when wet and is ideal for use on hands and feet.
● The taping manual and paper pattern are included with purchase.
---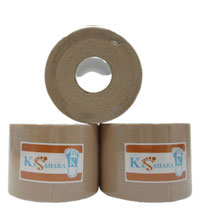 Product Name:K-81B
Description : Balance Tape
Price:7,776 Yen (Tax included)

Attention!
Please read the purchase procedure and return & exchange policy before purchase. Thank you for your understanding.
【Notice】
【Balance tape】

● Please do not pull tape too strongly as it has elasticity.

● Please remove the tape carefully to prevent injury.

● Please discontinue use and see a doctor immediately if there is any trouble.

■ Size
K-81B 5cm×5m(6rolls)

■ Color
Beige

■ Material
Contains tourmaline

■ Made in Japan
BLOG
2018-08-20

2018-08-06

2018-07-31