Bandage and 3-toe Socks in Combination
For those people with sensitive skin and strong pain who need more than just 3 toe socks, the use of a non-elastic bandage and 3 toe socks is recommended. It is also practical for going out.

Using a non-elastic bandage, wrap bandage around the sole of the foot 5 to 6 times. Be sure bandage reaches the base of the big and little toes. Wrap with paper tape to secure the bandage.
Cut the bandage on the top of the foot and sole in a crescent shape.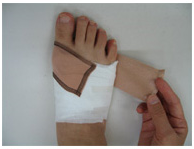 Wrap tape as in "Basic Tape 1" to avoid slippage of the bandage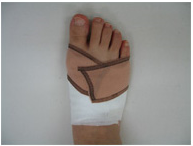 Be careful not to over-stretch the tape but apply it gently.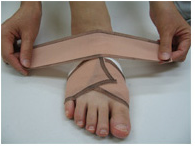 Cross tape ends on top of the foot.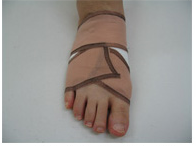 For the second piece of tape, cross tape ends on the sole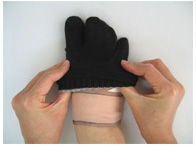 Put 3-toe socks on over taping.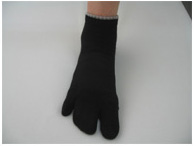 Completed!