Kojiri Leggins (Hip Supporting Leggins)
We are introducing some of our primary Balance Supporting Products on this site, however, there are more products originally invented.
Today, we would like to introduce "Kogiri Leggins" or Hip Supporting Leggins!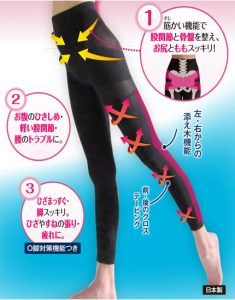 With imbalanced sole, the shin and calf muscles often develop to compensate, storing fat to cope with fatigue and the leg continues to gain excess fat.
Kojiri Leggins is ideal for those who have the problem.

・Splint function from both?right and left side?helps to soften the tension and fatigue of the shins.
・Cross taping function on both front and back provides comfortable pressure on the legs.
・Also, crossing belt function supports the greater trochanter?and?the hip bone.

<Number> AKM-001
<Price> 5,184 Yen (tax included)
<Size> M (hip 87cm~95cm)? L (hip 92cm~100cm)
<Material> Nylon, Polyurethane
Kojiri Legins?(Japanese weisite)